Dental Crowns & Bridges – Oklahoma City, OK
Flawlessly Fill Your Grin's Gaps
Have you lost a tooth or several teeth because of decay, gum disease, or an injury? At the Oklahoma City dental office of Dr. Mitchell, we're happy to create a custom-made dental crown and bridge to help you fill in the gap and fully restore your smile. Besides improving your appearance, your crown and bridge will improve your chewing function, so you can eat all the foods you enjoy; you won't have to avoid hard or chewy foods because they are more difficult to eat when you're missing teeth.
In addition, your speech might improve when you replace teeth, using dental crowns and bridges in Oklahoma City, OK. Our teeth are integral to the ability to correctly pronounce and enunciate certain letters and sounds. People who are missing even one tooth may not feel comfortable speaking knowing that some of the words they try to say will not be clear.
Why Choose Mitchell Smile Design for Dental Crowns & Bridges?
Durable Yet Lifelike Materials Used
Most Dental Insurance Plans Accepted & Maximized
Traditional & Implant Bridges Available
Reliable Tooth Replacement Option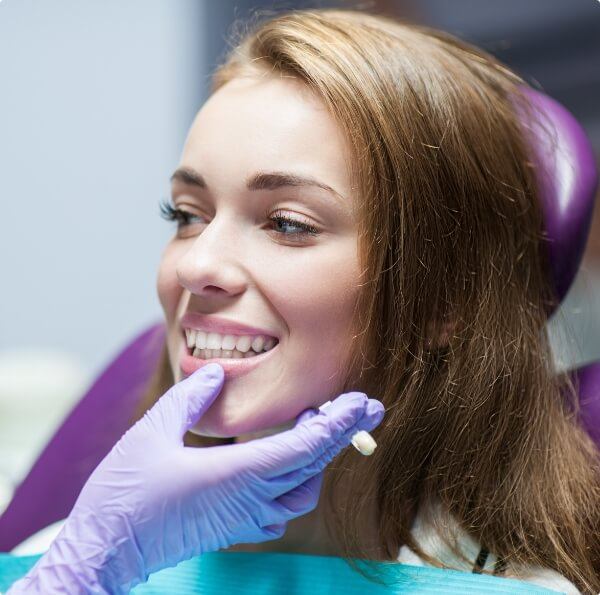 Replacing missing teeth with a dental crown and bridge in Oklahoma City can prevent nearby teeth from moving out of alignment. Side by side, your teeth help keep one another in their proper position. Take one away and the others are more inclined to drift, throwing off your bite and possibly causing symptoms of TMJ disorder. Tooth replacement with a crown and bridge may even help you achieve a more youthful appearance by providing your face with the internal structure it was missing.
What Is a Dental Crown & a Fixed Dental Bridge?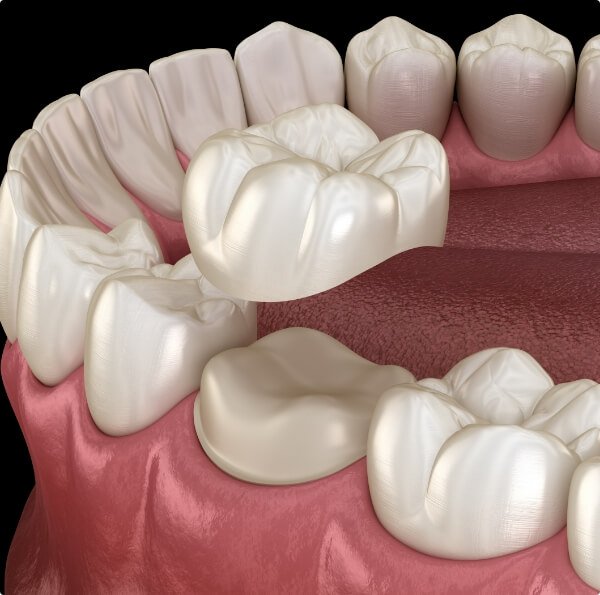 A dental crown and bridge (also known as a fixed bridge), is made of a prosthetic tooth attached to one or two abutment crowns. These crowns will attach to existing healthy teeth on either side of the gap in your smile. If one or both of these abutment teeth are not strong enough to support a crown, then Oklahoma City dentist Dr. Mitchell may choose to build up the tooth or place a dental implant instead.
Dr. Mitchell will design your crown after a careful oral exam. The abutment teeth will need to be slightly reduced in size in order to accommodate the crowns. Once cemented into place, these crowns will provide your new prosthetic with a strong foundation. When your custom-made bridge is ready, it will be permanently attached to your smile for results that look beautiful and improve both health and functionality.
Dental Crown & Bridge Frequently Asked Questions
Are you looking for a dentist who can deliver high-quality restorations that not only look natural but feel comfortable and better protect weakened teeth? Dr. Brad Mitchell is a skilled dental professional whose experience, training, and knowledge allow him to repair and restore a patient's smile with ease and assurance. Learning you need a dental crown or bridge often brings about several questions, all of which Dr. Mitchell will be pleased to answer. But if you have additional questions and do not see yours listed below, feel free to contact us to discuss.
Will My Dental Crown and Bridge Look Natural?
Yes, you can count on your dental crown and bridge to look completely natural when put into place. It is the goal of Dr. Mitchell to provide patients with prosthetics that blend in seamlessly with any remaining, healthy teeth. Using only the highest quality materials and trusted dental lab technicians, your restorative dentist in OKC will be sure the color, size, and shape matches beautifully with your existing teeth, making it virtually impossible for anyone to tell the difference between your real and artificial teeth.
What Are the Benefits of a Dental Crown and Bridge?
Not only will you enjoy greater clarity when you speak and the ability to eat without feeling embarrassed, but you'll also appreciate the complete smile that enhances your appearance. A dental crown and bridge fixture makes it possible for you to also enjoy an even bite force when eating, as missing teeth can cause added pressure in certain areas, causing healthy teeth to break down.
Your customized prosthetic will give you the natural look you desire while allowing you to enjoy a fully functional smile that can last a decade or longer with proper care.
How Should I Take Care of My Dental Crown and Bridge?
Although your dental crown and bridge may not experience decay, the abutment teeth that serve as anchors can, which is why it's important that you take proper care of your smile. Make sure to brush your teeth twice a day using fluoride toothpaste, as this will protect your teeth against tooth decay and strengthen enamel. You'll also need to floss at least once a day to ensure there is no bacteria or food particles between teeth. You may need to purchase a water irrigator or a special flossing device to help reach the areas underneath and around your bridge.
Finally, do not forget to maintain regular dental checkups and cleanings with your dentist in OKC, as he will want to examine your dental crown and bridge for any possible damage.
Will My Crown and Bridge Be Covered by Dental Insurance?
One of the great benefits of enrolling in a dental insurance plan is that you can save money should you require more complex dental care. Since a dental crown and bridge is a restorative treatment, most companies will agree to cover between 50-80% of the total cost. The exact percentage is dependent upon your individual plan. If you need help understanding the cost of your treatment or how to maximize your benefits, our team can help! Not only will we file necessary paperwork and claims on your behalf, but we'll also help you apply for third-party flexible financing through CareCredit should you need assistance paying the remaining balance.