Teeth Whitening – Oklahoma City, OK
Say Goodbye to Stubborn Tooth Stains
Many dental patients invest countless hours and dollars in products to whiten their teeth. Toothpastes, mouthwashes, strips, gels; the options are seemingly endless, and so are the variety of results. For some patients, over-the-counter teeth whitening products can be effective, but for the majority of people seeking teeth whitening, the non-professional products will not be effective. The best way to determine what teeth whitening options are best for you is to visit Mitchell Smile Design. Cosmetic dentist, Dr. Bradley Mitchell, can examine your smile and help you determine which option for teeth whitening at our Oklahoma City, OK dental office will fit your needs, budget, and timeline.
Why Choose Mitchell Smile Design for Teeth Whitening?
In-Office or At-Home Whitening Options
Solutions That Deliver Stunning Results
Treatments Designed with Your Comfort in Mind
Types of Tooth Discoloration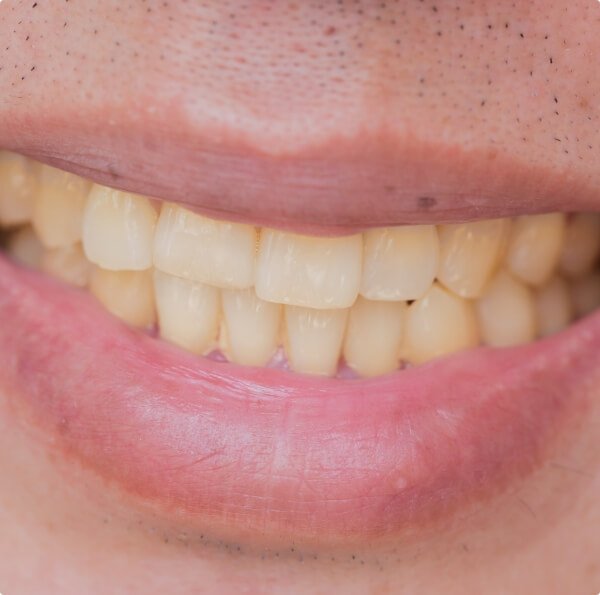 There are three types of tooth discoloration: extrinsic, intrinsic, and age-related. Each type requires specific treatment to restore the smile's natural beauty.
Extrinsic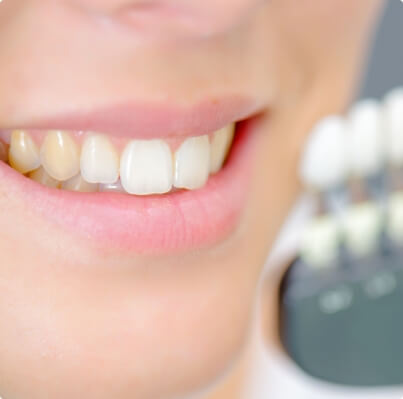 This includes surface level enamel stains from coffee, wine, and other acidic or staining foods and drinks as well as smoking or using tobacco. Mild surface level stains respond to over-the-counter whitening products, but can be more comfortably treated with our professional at-home whitening solutions and custom application trays with your choice of strength and wear times.
Intrinsic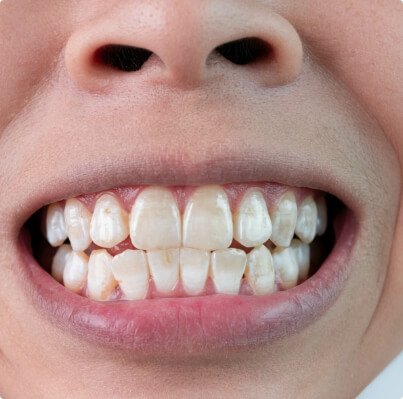 Beneath the thin, enamel layer is dentin. Intrinsic staining is the discoloration of the dentin layer and has many causes including:
Over exposure to fluoride
Tetracycline antibiotics taken younger than the age of eight or by your mother while you were in utero
Traumatic injury in your childhood can discolor the developing dentin
Internal bleeding from trauma to a permanent tooth
If extrinsic staining isn't removed, it can be absorbed into the dentin layer
While tetracycline and traumatic injury discolorations do not respond well to tooth whitening, regular staining of the dentin layer is treatable with professional grade in-office or at-home whitening.
Age-related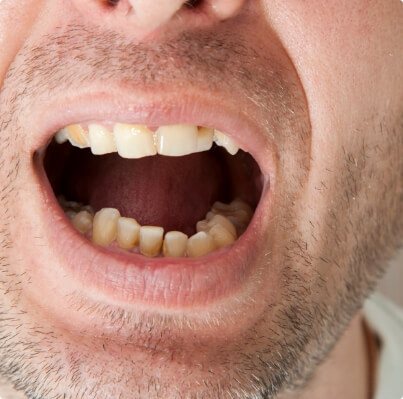 The dentin layer is yellow in color and that color darkens with age in conjunction with the natural thinning of tooth enamel giving teeth an older appearance. This type of discoloration does not generally respond to teeth whitening. Veneers or cosmetic bonding may be good options for improving the color of the teeth.
In-Office Teeth Whitening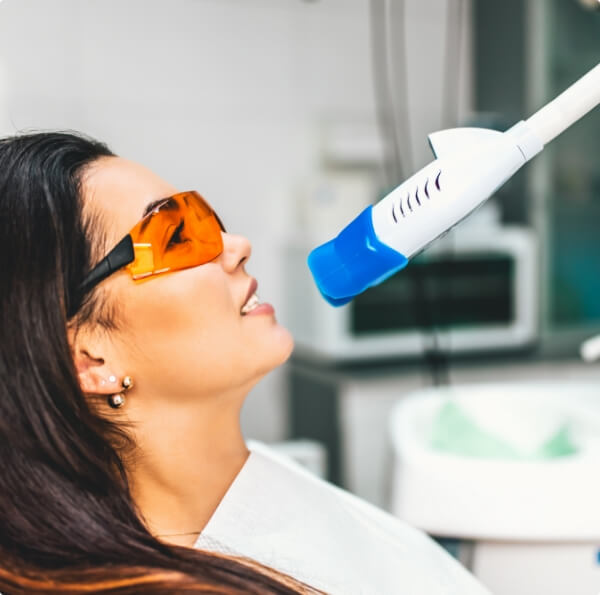 In-office teeth whitening is one of the most effective ways to remove stains from the enamel and dentin layers. While discoloration caused by age or trauma may not respond to this whitening method, most other stains can be lifted with in-office whitening. Professional whitening gel uses hydrogen or carbamide peroxide to remove stains. Typically, oxidation is considered a bad thing. Rust and rotting fruit are types of oxidation, but when it comes to teeth whitening, the oxidized reaction caused by the peroxide results in stain removal.
Benefits of In-Office Teeth Whitening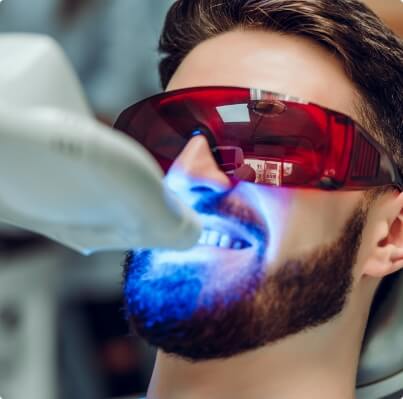 Quick results
Observation by dentist
Most drastic changes
Soft tissue is protected
In-Office Teeth Whitening Process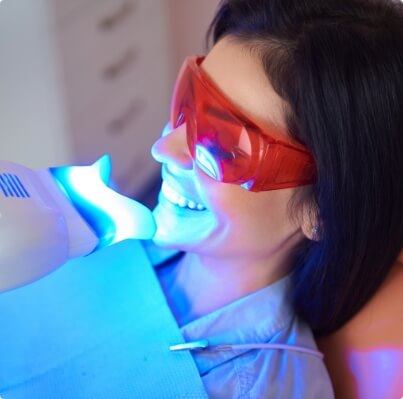 Dr. Mitchell prepares your mouth by protecting gums, lips, and soft tissue from the whitening agent.
Whitening gel is applied to the teeth and allowed to stand for about an hour.
The whitening gel is removed and patients may choose to receive a fluoride treatment.
Teeth are as much as 10 shades brighter.
Professional At-Home Teeth Whitening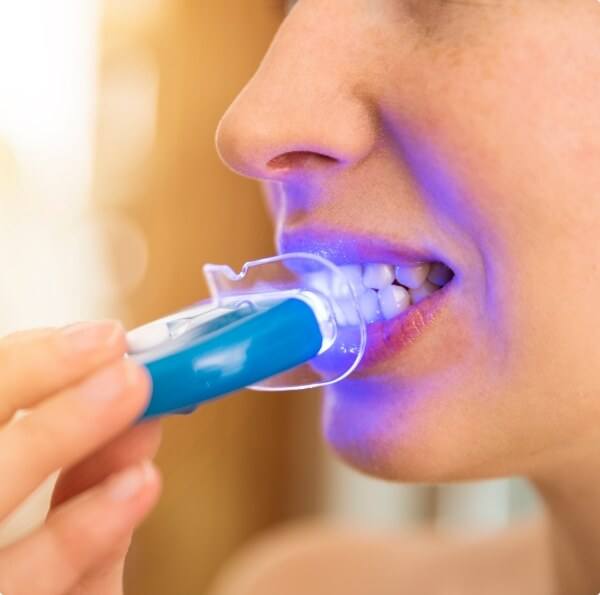 Unlike over-the-counter teeth whitening products, professional-grade at-home whitening takes advantage of custom application trays to protect soft-tissue from potential damage by the peroxide, and keep saliva from affecting the solution. One-size-fits-all application trays allow saliva to mix with whitening gel. Saliva is the body's natural acid neutralizer, and that is typically a good thing. When it comes to tooth whitening, saliva essentially deactivates the peroxide solution rendering it ineffective. Custom trays fit more comfortably, protect soft tissue from damage, and keep saliva from neutralizing the solution.
Benefits of At-Home Teeth Whitening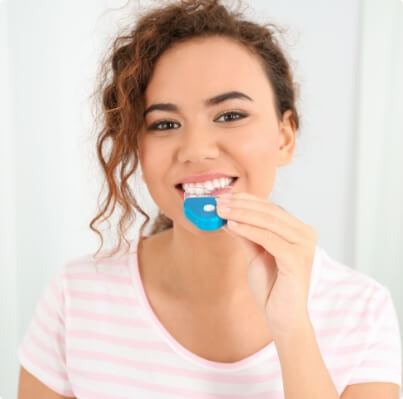 Comfort of home
Professional results
Budget-friendly
Better for sensitive teeth
Gradual lightening
Great for touchups to extend the results of in-office whitening
At-Home Teeth Whitening Process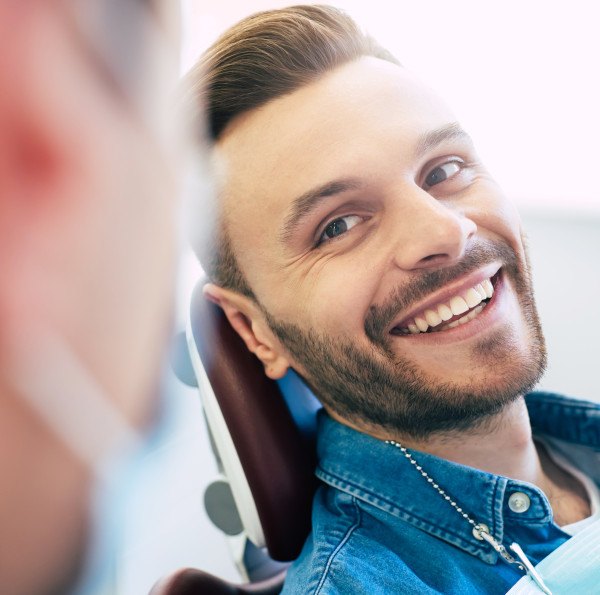 Dr. Mitchell takes impressions of your smile, and these are used to create custom whitening application trays.
You receive professional-grade whitening gel. There are a variety of strengths and wearing times available. The best option for your schedule, budget, and smile will be determined during a meeting with Dr. Mitchell.
Patients apply the gel via custom application tray for a predetermined amount of time each day.
In about two weeks, patients will see the most significant changes to their smile.