Invisalign Clear Aligners – Oklahoma City, OK
Comfortable, Cosmetically Pleasing Orthodontics
Are you unhappy with your crooked or crowded teeth but hoping to avoid conventional orthodontic treatments? For people who want to benefit from straighter teeth and a more beautiful smile without wearing metal braces for a year or more, Invisalign clear aligners from our Oklahoma City, OK cosmetic dentist offer a wonderful alternative.
Why Choose Mitchell Smile Design for Invisalign Clear Aligners?
Digital Scanning Technology for Mess-Free Impressions
CareCredit & Our In-House Plan Make Saving Easy
Friendly Dentist with Advanced Invisalign Training
How Does Invisalign Work?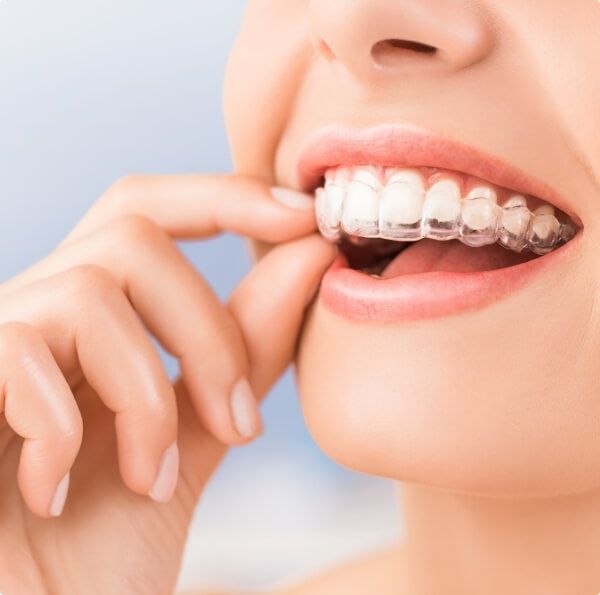 Invisalign uses a series of clear plastic aligners to gradually shift misaligned teeth into the proper position. These aligners are customized to fit tightly around the teeth at each stage of the treatment. You will be instructed to wear each set for 20 to 22 hours each day, removing them to eat, drink anything other than water, and to brush and floss your teeth. You will advance to the next set of aligners in the series after one to two weeks, depending on our recommendation. We will schedule a check-in appointment approximately every six weeks. The average treatment time for Invisalign ranges between one and two years, depending on the complexity of the case and how well the patient complies with the instructions.
What Are the Benefits of Invisalign?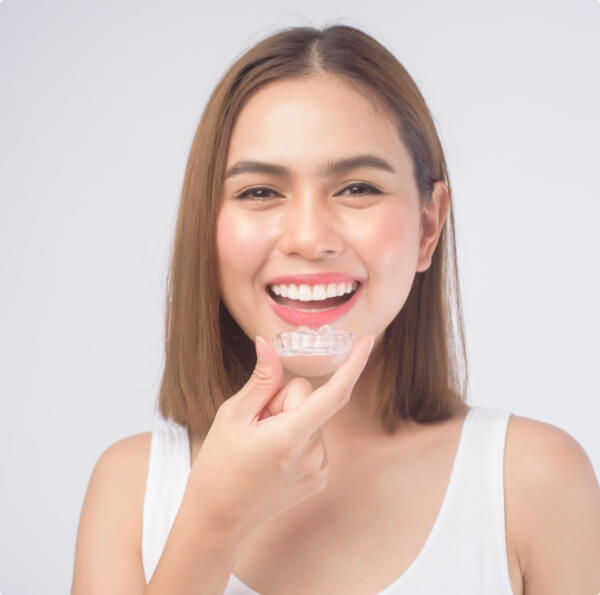 As a clear, removable orthodontic treatment, Invisalign offers a wealth of benefits for adults and older teens alike. Some of the most notable advantages of this treatment include:
Invisalign is practically invisible when worn.
Removable Invisalign aligners allow you to continue to eat what you like throughout the treatment, without worrying about popping off a bracket or wire.
Because you can brush and floss your teeth without having to maneuver around fixed brackets and wires, your oral health stays strong throughout the treatment.
Smooth plastic trays are typically far more comfortable than metal hardware.
Fewer visits to the dentist are required with Invisalign compared to conventional braces.
At the end of the treatment, you can enjoy a beautiful smile with straight teeth and a properly aligned bite!
Who Should Consider Invisalign?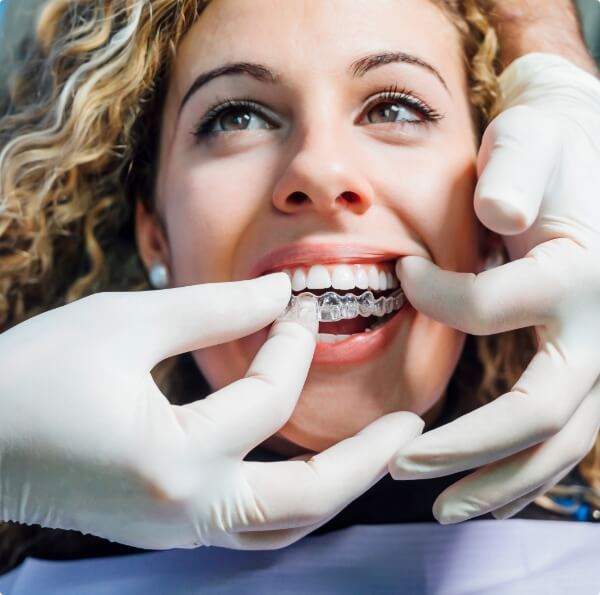 Invisalign is typically a good option for anyone who could benefit from conventional orthodontic treatment. This treatment can be used to fix the following:
Crowded teeth
Gapped teeth
Overbite
Underbite
Crossbite
The only way to find out for sure whether or not you can benefit from this clear aligner system is to schedule an appointment with our dental office. When you do, Dr. Bradley Mitchell will evaluate the alignment of your bite, discuss your smile goals, and determine which method of treatment is best for you. If it's Invisalign, you can look forward to getting started right away.
Understanding the Cost of Invisalign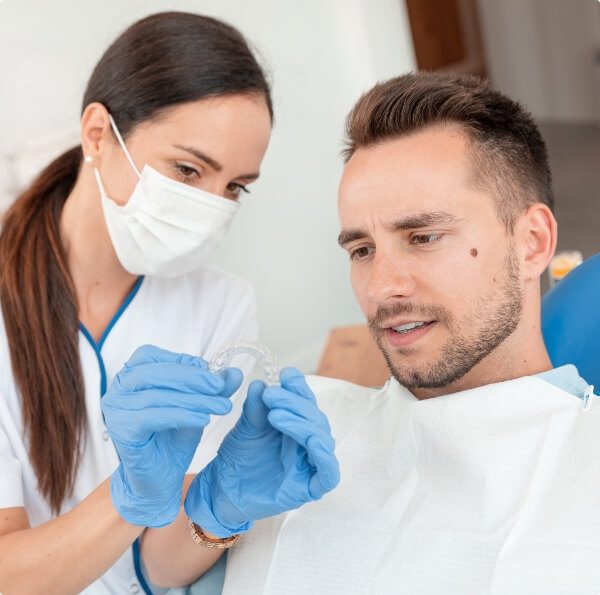 Now that you know all about the process and benefits of Invisalign in Oklahoma City, it's time to discuss the cost. After all, it's one of the most frequently asked questions from prospective patients! Unfortunately, there is no one-size-fits-all answer. There are, however, some factors that will help you determine the answer. To learn what they are, read on!
Factors That Affect the Cost of Invisalign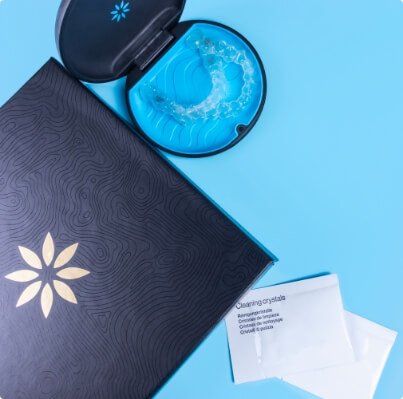 Although Invisalign can help patients correct a wide range of orthodontic issues – from mild spacing to moderate crowding – the clear aligners aren't a one-size-fits-all treatment. As a result, there isn't a flat fee you can expect to pay. The cost of Invisalign in Oklahoma City will depend on factors like:
How many trays are needed to straighten your teeth
If you are straightening both arches or just one
Your compliance with treatment
The need for any additional accessories, like elastics
Invisalign vs. Smile Direct Club™: Which Costs More?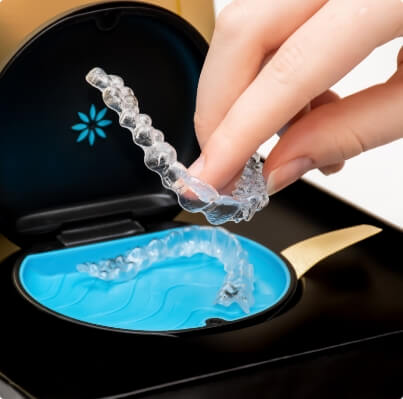 In recent years, DIY orthodontics, like Smile Direct Club™ have risen in popularity. With a $2,000 price tag and marketing that promises successful treatment, it's not hard to see why! However, it's important to weigh both the cost and the value, especially when it comes to something as important as your smile. While Invisalign can cost anywhere from $3,000 to $8,000, the innovative, effective, and safe patented material can be relied on time and time again. Plus, they use professional impressions and consistent monitoring from a licensed professional, which cannot be said about DIY orthodontics. In short, while the price of Invisalign may be higher, the investment is well worth it.
Does Dental Insurance Cover Invisalign?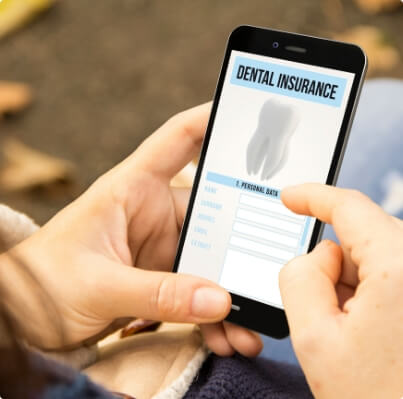 It's certainly possible! While some dental plans don't include any coverage, others have a once-in-a-lifetime provision for braces. Typically, this benefit is one that doesn't renew and typically involves coverage of around 50% of your treatment. However, the details depend entirely on your insurance provider. So, don't hesitate to get in touch with them to find out. Otherwise, our knowledgeable team can help you better understand your benefits and how to use them!
Options for Making Invisalign Affordable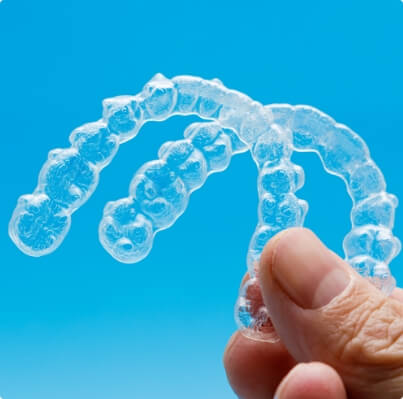 If you're currently uninsured or your plan doesn't include orthodontic coverage, don't fret. Our knowledgeable team has years of experience helping nearby patients get the top-notch dentistry they deserve at a price they can afford, and we'd be more than happy to do the same for you! We welcome cash, check, and all major credit cards. Plus, we can help with third-party financing as well. So, if you're interested in Invisalign, but aren't sure of the best financial option for you, don't hesitate to get in touch!
Invisalign Frequently Asked Questions
If you are interested in Invisalign in Oklahoma City, Dr. Mitchell and our team are ready to help you get started on your journey. In the meantime, though, you may want to learn more about the road ahead. Below, you will find answers to some frequently asked questions about this treatment. If you do not see the specific information that you are most curious about, give us a call — we look forward to speaking with you!
What Does Invisalign Look Like?
Invisalign aligners are constructed out of a patented form of plastic, which is designed to be as thin and clear as possible. Although it is not completely invisible when it is in the mouth, it is very subtle — it is unlikely to be the first thing that onlookers notice about your smile. If you maintain excellent oral hygiene and do not consume anything except plain water while your aligners are in your mouth, you can expect them to maintain their clear, discreet appearance.
It is also important to keep in mind that some patients require buttons or other attachments as part of their treatment. These accessories are more visible than the aligners themselves.
Does Invisalign Hurt?
Invisalign aligners are designed to be as comfortable as possible. Their smooth plastic is easier on the oral tissues than the metal brackets and wires of traditional braces. However, there is always at least some discomfort when the teeth are being moved. After all, the aligners will be applying constant pressure to your smile in order to shift your teeth into their proper positions. When you first switch to a new aligner, some soreness and tenderness are to be expected. You can minimize your discomfort by switching to a new aligner at night, sipping on cool water, and if necessary, taking pain medication. If you ever experience any severe pain with Invisalign, call our dental office right away.
What Happens After Invisalign?
After you finish using all of your aligners, you will need to start wearing a retainer. There are a few different types of retainers. If you have a removable one, you should wear it full time at first (20 – 22 hours a day, just like your Invisalign aligners). Eventually, you may be able to graduate to wearing it only at night. Retainers are incredibly important; if you fail to use yours properly, your teeth may quickly drift out of place, effectively undoing all of your hard work and patience with Invisalign.
What If My Invisalign Broke?
Occasionally, accidents happen that can damage aligners. If that ever happens to you, call us as your cosmetic dentist in Oklahoma City right away, and we'll advise you on your next steps. We might encourage you to switch to your next aligner if you were only a few days from making the transition. It is also possible that you should wear an old aligner while we order a replacement for the one that broke. In some cases, such as if an aligner has a hairline fracture, you might be able to continue using it. You will just need to be extra careful so you do not worsen the damage.