Dental Implants – Oklahoma City, OK
The Only Complete Tooth Replacement
If you have lost a tooth or multiple teeth due to injury, decay, or periodontal disease, you understand the negative impact that your condition can have on your everyday life. With an incomplete set of teeth, even the simplest of actions become difficult, if not impossible. Speech can be slurred and eating a complete diet can be painful and exceedingly challenging. In addition, missing teeth can drastically diminish your sense of self-confidence. Fortunately, our expert implant dentist offers a permanent tooth replacement solution that looks and feels completely natural: dental implants. Read on to learn more about dental implants in Oklahoma City, OK and the benefits of this tooth replacement option.
Why Choose Mitchell Smile Design for Dental Implants?
Partnered with the Best Local Dental Implant Experts
Comfortable, Mess-Free Digital Impression System
Affordable Dental Financing Options Available
What Are Dental Implants?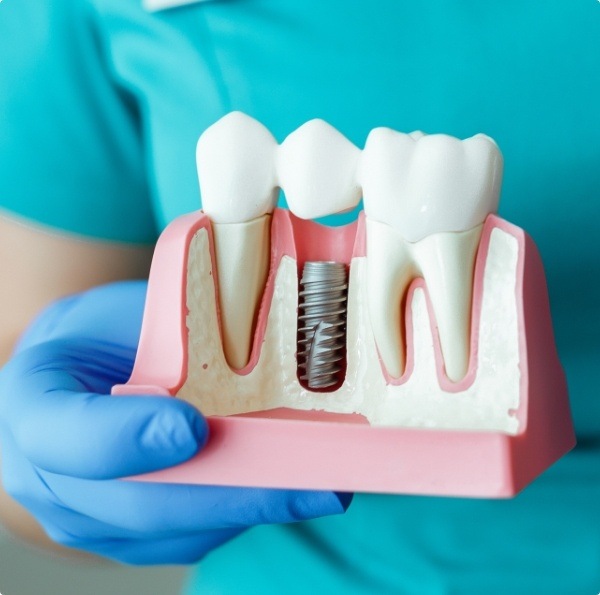 Dental implants replace the parts of the teeth below the gum line that you don't normally see. These titanium rods are surgically placed in the jaw, where they naturally integrate with the bone tissue in the area. Afterward, we can attach a custom dental crown, bridge, or denture (depending on how many teeth you're missing) to your implants, which completes the missing visual aspect of your teeth.
The Dental Implant Process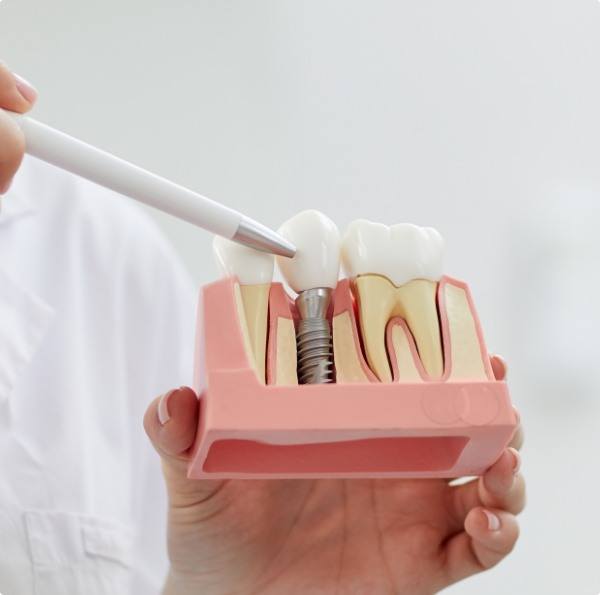 Consultation – You'll meet with Dr. Brad Mitchell to determine how eligible you are for dental implants.
Surgery – We'll refer you to an experience specialist, who will carefully position the implant posts into your jaw during a minor surgical procedure.
Osseointegration – This is the process by which your jawbone will bond with the implants, and it can span up to six months.
Restoration – Once your implants have integrated, Dr. Mitchell can restore with any number of prosthetic teeth.
Benefits of Dental Implants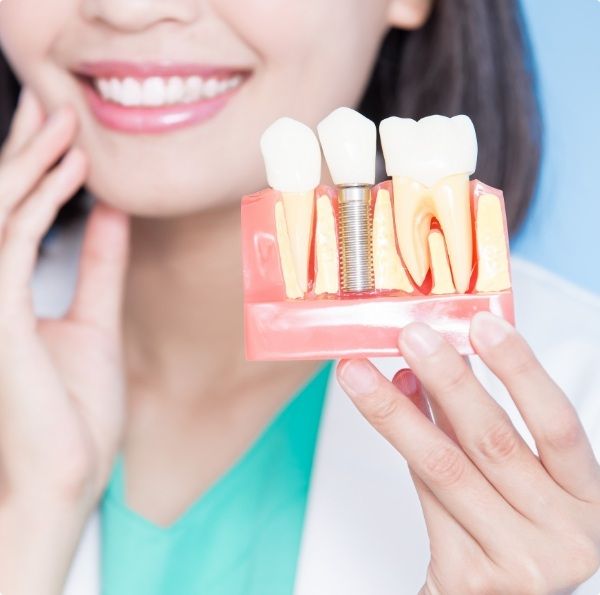 Dental implants improve your oral health in more ways than one. Because the bone in the jaw requires stimulation from tooth roots, it begins to deteriorate over time when one or more teeth are lost. With dental implants, the bone tissue receives sufficient stimulation to remain healthy, thereby reducing the risk of further tooth loss. When your jawbone is healthy and full, your facial contours are preserved. This means that patients with dental implants can avoid the older, sunken look often associated with other tooth replacement options.
Additionally, dental implants are stronger than any other option, allowing you to easily chew through all of your favorite foods. Plus, with proper care, dental implants can last a lifetime, making them a dependable replacement solution.
Who Dental Implants Can Help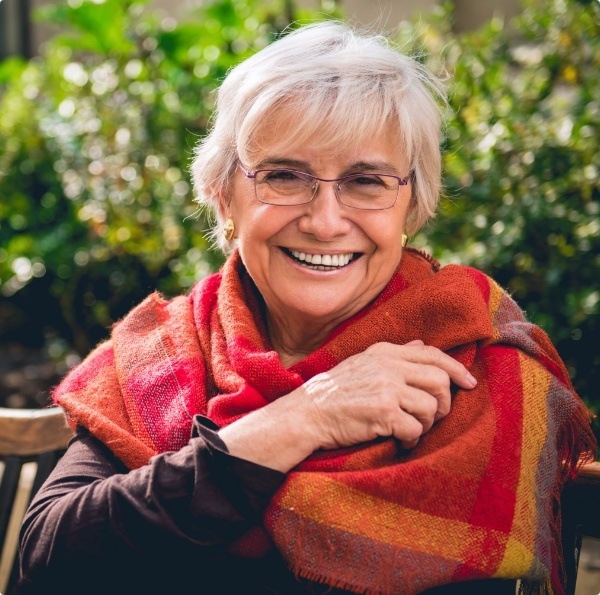 We can use dental implants to replace one tooth, multiple teeth, or even entire smiles. The restoration that we recommend will directly depend on the number of teeth that you're missing.
Missing One Tooth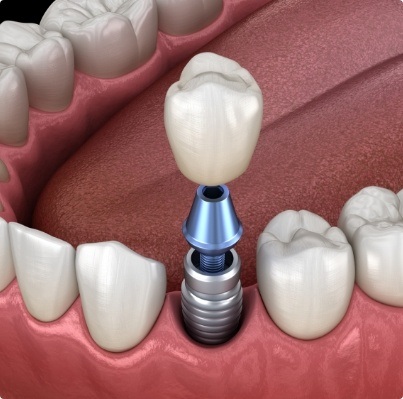 Are you missing just one tooth? It's still important to replace it, which will protect your smile from the issues that missing teeth cause. We can use a single implant topped with a dental crown to seamlessly complete your smile while restoring its function and appearance.
Missing Multiple Teeth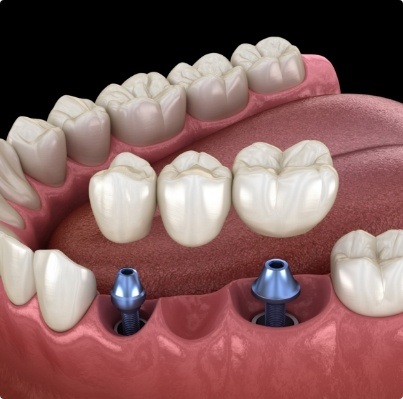 If you're missing multiple teeth consecutively, we will recommend using an implant bridge. This custom-made prosthetic literally "bridges" the gap in your smile with some help from dental implants on either side for support.
Missing All Teeth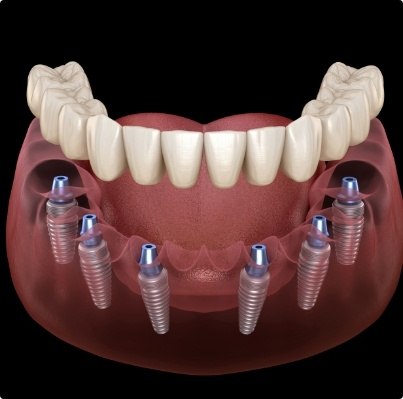 If you're missing all or most of your teeth, there is no better option than implant dentures. Combining the best of both worlds, implant dentures allow us to replace all of your teeth at once with the stability and health benefits of dental implants. Typically, an average of six dental implants will be needed to properly support a denture.
Understanding the Cost of Dental Implants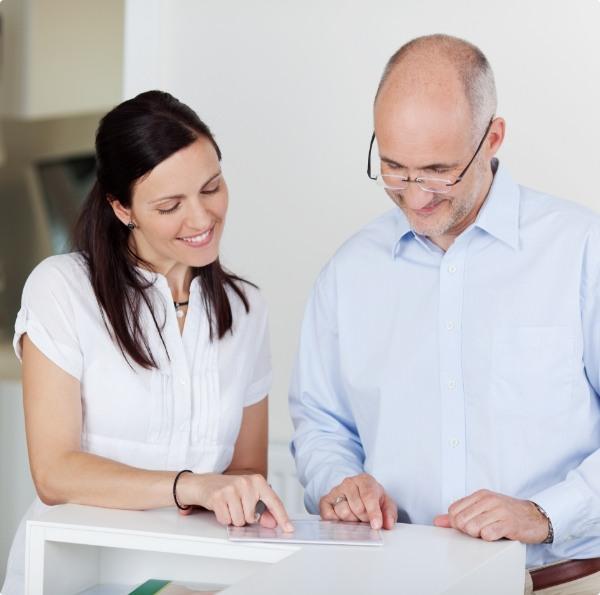 The cost of your dental implants will vary based on a few key factors like the condition of your oral health, the number of teeth you're missing, and the strength of your jawbone. Dr. Mitchell will carefully examine your smile to develop a personalized treatment plan that includes cost. The type of restoration that you need will also influence the total cost of your treatment, which is why it's hard to give a precise estimate without checking your mouth out first. At Mitchell Smile Design, our friendly team is experienced at maximizing insurance benefits, and we even offer financing options to allow everyone to receive quality dental care at an affordable price.
Dental Implant Frequently Asked Questions
If you are one of the many patients who has been given the green light to move forward with dental implants in OKC, congratulations! Dr. Mitchell and his team look forward to helping you achieve the smile you deserve using one of the most popular and superior forms of tooth replacement on the market. But if you're also like many others, you probably have a lot of questions. To ensure you receive the clarity you need to feel confident about your decision to choose dental implants, we've compiled some common questions asked by many of our patients. If you would like to schedule an appointment to inquire further or address any concerns, please don't hesitate to contact us.
Is There Anything I Can't Eat with Dental Implants?
With dental implants, you can enjoy all your favorite foods. While it is advised that you avoid hard, crunchy foods because they can damage both your real and artificial teeth, you'll never need to worry about missing out on your favorite meals. Dental implants look and feel just like regular teeth, so you'll have a better bite force that is evenly distributed so you can eat confidently among family and friends.
Does Getting Dental Implants Hurt?
Once your dental implants are surgically placed, you can expect to experience several days of soreness. After all, we will need to gain access to your jawbone through the gums, so this area of your mouth will likely be tender in the following days after your procedure. By adhering to our instructions and taking any prescribed or over-the-counter pain relievers as directed, you can expect to begin feeling better shortly after having your implants put into place. While this doesn't mean you should immediately return to strenuous activity, you should begin to notice less discomfort with each passing day.
Will I Need a Bone Graft Before Getting Dental Implants?
This is dependent upon how strong your jawbone appears when your dentist in OKC examines it during your initial consultation. If your jawbone appears strong enough to support your implants and restoration, you will be free to schedule your surgical procedure. However, if there are weakened areas of your jawbone, you will need to undergo a bone graft or sinus lift, as this will ensure your implants have a solid foundation to fuse to and are sturdy enough to support your dental crown, bridge, or denture.
Can I Switch from Dentures to Dental Implants?
Many patients who are denture wearers often ask if it is possible to switch to dental implants. In most cases, yes, but it is ultimately up to Dr. Mitchell to determine if you are eligible. Because dental implants become a more appealing option for those who are used to soaking their dentures each night and using dental adhesive to keep their teeth in place, it is necessary to first examine the jawbone and determine if the move to dental implants can occur immediately or if a bone graft must occur first.