Smile Gallery
Veneers: little or no tooth reduction, prep-less veneers, limiting drilling
This beautiful Oklahoma City resident was unhappy with the shape and color of her teeth. She wanted a younger, fresher, more uniform smile without the blemishes and black triangles at the gumline. Many of our new patients have recently had significant dentistry and sometimes they express disappointment in the outcome of this work. This patient had veneers placed on her upper teeth a few years ago which were chipped and leaking at the gumline, which showed black cavities at the margins of her veneers near the gumline.
Recent development in porcelain technology has an answer for patients like this with mismatched color and shape of their teeth. E Max porcelain veneers with very little tooth reduction were used to transform this patient's smile. E Max veneers can be as thin as 0.3 millimeters thick while still achieving uniform shade and shape. The result is a symmetrical smile with teeth that have more uniformity of color while at the same time a youthful, non-worn look.
Invisalign
This Oklahoma City socialite wanted to close the gap between her 2 front teeth. For years she had contemplated closing the space but could never pull the trigger on treatment. Her lower teeth were also crowded, and she noticed this worsening over the last few years. She noticed her upper teeth when smiling and her lower teeth when she was talking. She didn't want traditional metal braces and wanted to preserve her natural teeth.
This gorgeous patient was able to achieve her dental goals with Invisalign treatment and whitening. Invisalign trays (or aligners) are custom made to fit your teeth and are less than 1 millimeter thick. A series of trays are manufactured specifically for your teeth and bite which are worn for 1-2 weeks duration. Instead of the brackets and wires used in traditional dental braces, the aligner exerts a low load force necessary to permanently move your teeth. Unlike metal dental braces, there is not a painful tightening of wires. Progress is achieved by simply advancing from one tray to the next. Each aligner moves you closer to the finished product - your beautiful new smile.
Avoiding a Black Line at the gumline with Cosmetic Crowns
This northwest Oklahoma City resident complained that a crown in the front of her mouth did not match the color of the rest of her teeth and also a black line had formed at the gumline around the crown. She had noticed this crown in pictures of herself recently and started limiting her smile when taking pictures as not to show her teeth. She wanted to replace the crown with one that matched and did not display a black line at the gumline. She was worried about matching the shape and shade of the new crownto the rest of her teeth and wanted her smile to "look natural."
This patient was able to achieve her treatment goals through 2 steps. First, she received in-office ZOOM whitening in order to whiten and brighten her smile overall. Next, she elected to have cosmetic crowns placed on her 2 upper front teeth to give her an overall beautiful, natural smile. The previous crown that was removed was made of metal underneath porcelain which was the black line that displayed at the gumline. Cosmetic crowns are made of porcelain which gives the color and translucency of natural teeth. She was so pleased with her outcome that she indicated that she wished she had done this "years ago."
Invisalign
This future attorney was unhappy with the spacing and gaps of his smile. He never had braces as an adolescent and his teeth were worn and misshapen after years of malocclusion. He wanted to close the gaps in his teeth and to improve the shape of his teeth to a more youthful-looking smile. He didn't want to have traditional metal braces and wanted to avoid veneers if possible.
This patient's smile makeover was completed with minimally invasive dentistry. He received Invisalign treatment with clear aligner trays. Although the trays are almost invisible, he liked the fact that he could take the Invisalign trays out if he had an important meeting or was going to be in photographs that he didn't want the trays to be displayed. After completing Invisalign, enamaloplasty was completed to reshape his teeth after years of wear. This helped renew the shape and harmony of a youthful smile. All of our Invisalign patients receive complimentary whitening which also noticeably brightened and whitened his smile.
Closing Gaps in Teeth, Straightening Crooked Teeth
This former football player had braces in high school but did not wear his retainers to maintain the position of his teeth. Over the years, his teeth have drifted and he developed gaps and drifting of several teeth. He was interested in Invisalign because he regularly gives presentations and wanted the option to take out the Invisalign trays as needed.
This fantastic smile was achieved with Invisalign accompanied with whitening. It is truly amazing that this took only 3 months of treatment. Dr. Mitchell prefers Invisalign clear aligners because they have over 20 years of research, over 900 patents, and have treated over 5 million smiles.
Missing tooth, tooth replacement bridge, dental bridge, not enough room for dental implants
When a tooth is lost, an excellent way to replace it is with a dental implant. A dental implant has the same basic shape as a normal front tooth and root. Dental implants require a minimum amount of space between the roots of the adjacent teeth in order to be placed. If there is not enough room, orthodontics is an option to move the roots and allow enough space for the dental implant. For those that don't want to go through orthodontics, another great option to replace a missing tooth is a dental bridge.
This Oklahoma City pastor wanted to replace a missing tooth. We discussed replacing the tooth with a dental implant or a dental bridge. He decided that a dental bridge was the best choice for him. Because he was traveling on mission trips and time was extremely valuable to him, he wanted the quickest treatment option. The final dental bridge was fully completed and delivered in 3 weeks. A temporary bridge was utilized during the 3-week window while the final dental bridge was being constructed. The porcelain bridge gave this patient the natural smile he wanted- nobody but his dentist and hygienist will know he is missing a tooth. Zirconium was used to make this bridge strong.
Dental Implant - Missing Tooth: Replacing a missing tooth with a dental implant
Dental implants are now our preferred way to replace missing teeth. Teeth can be lost due to advanced cavities, periodontal disease, or by an accident or injury. Dental implants act as substitutes for the roots of your missing teeth. Similar to artificial joints, dental implants are made of a specially treated titanium that is totally bio-compatible. Human bone actually grows around and integrates to the implant in a process called osseointegration. They look, feel and function just like your natural teeth. Implants can also be used to hold or support dentures and bridges.
This lovely patient unfortunately lost her front tooth from trauma. She was referred to Dr. Mitchell by her family dentist for cosmetic dentistry. Although other dentists may use generic parts off the shelf where "one size fits all," Dr. Mitchell utilizes custom implant parts. These custom parts improve the aesthetics, length of service, and your ability to clean. It is easier to create a perfect bite with custom parts. This patient was ecstatic with the results of her replaced tooth.
Fractured Tooth, Black Line in Tooth
This beautiful patient developed a black line/crack in her central incisor over the last few years. She was concerned about the dark line and the integrity of her tooth. The crack had progressed over the last few months and she was ready to receive treatment.
We have built a reputation of superior dentistry by providing patients with porcelain crowns, porcelain veneers, and dental implants while at the same time utilizing minimally invasive dentistry. Our goal is to create a natural and artistic smile that you will be proud to show the world.
Smile Makeover, Cosmetic Crown
"Can you give me a beautiful smile?" is what this patient asked. She had stained and failing dentistry in her smile zone and wanted to brighten and whiten her smile for a more youthful appearance. She was hesitant about completing the work and actually put it off for several months before deciding to follow through with her goals.
The newest generation of the high strength all-porcelain "Emax" crowns were placed to align her new smile. Cosmetic crowns like this patient received display the translucency that natural teeth have. She was so pleased with her results that she wished she would have completed her treatment sooner.
Straightening Crooked Teeth without Braces
"This beautiful patient had crowding of her teeth for many years and wanted to straighten her teeth and improve her smile. She didn't want metal braces and she also wanted to retain her natural teeth. We discussed several treatment options and she decided on Invisalign.
Invisalign is a series of computer-designed custom trays that move your teeth in very small increments. Typically, trays are worn for 1-2 weeks at a time and then advanced to the next sequential tray. Dr. Mitchell will reevaluate your progress every 6-8 weeks and make any adjustments as needed. She was extremely pleased with her progress and was surprised at how quickly her teeth moved into place.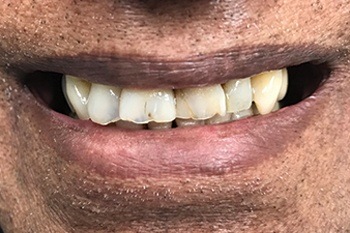 New Smile with Implants, Cosmetic Dental Crowns
"Can you fix my broken teeth and improve my smile?" is what this patient asked about his front teeth. His teeth were very worn down, broken, and chipped. He also had significant bone loss in this area which resulted in recession of his gums. He was afraid to eat with his front teeth in fear of them breaking completely.
A smile makeover was achieved by addressing his 4 front upper teeth. These teeth were extracted and replaced with an implant bridge with cosmetic crowns. This allowed the patient significant cost savings by utilizing 2 implants instead of 4. Cosmetic crowns were used with esthetic porcelain restoring his natural, beautiful smile.
Chipped Front Tooth, Cosmetic Bonding
This patient came in after she accidentally chipped one of her front teeth. She was worried that her tooth would never look "normal" again. After assessing her remaining tooth structure, Dr. Mitchell decided that she needed cosmetic bonding to restore her tooth to its natural state.
Cosmetic bonding can be utilized to restore chipped or broken teeth. It is also a short term fix for dental emergencies after there is trauma to a tooth. The bonded material adheres to the enamel and can be shaped to match the remaining tooth structure. Composite tooth bonding can also be used to fill a cavity or sculpted to improve the shape of chipped, jagged, or broken teeth. In many cases, it can be used to fill gaps between teeth, cover stains, or smooth sharp edges.
VENEERS, WHITE SPOTS ON TEETH, COSMETIC DENTISTRY, COSMETIC DENTIST
This beautiful college student was concerned about the spotty look of her teeth. She has had white spots on her teeth for as long as she can remember and she came to Mitchell Smile Design for veneers.
Dental Veneers were completed on this patient in a two-step process. First, her lower teeth were completed before her upper teeth were initiated and finalized. Dental veneers are thin shells made of porcelain that are permanently bonded to your teeth. They can treat a number of different cosmetic concerns including chipped, broken, rotated, discolored, or smaller than average teeth. They can create a youthful and symmetrical smile.
ATTRITION, TEETH WORN DOWN, CLENCHING OR GRINDING OF TEETH
This retired executive presented with severe wear of his lower front teeth. Severe wear, also known as attrition, can occur with clenching or grinding of your teeth. Attrition can occur if the enamel is worn down and the underlying dentin is exposed. Enamel is the hardest substance in the human body and is very durable. Dentin is a softer, more porous substance that wears away much faster than dentin.
Dental veneers were completed on this patient to restore the strength, function, and aesthetics of his lower teeth. He can now expect his lower teeth to last his lifetime.