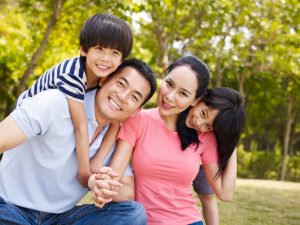 The health and beauty of your family's smiles is important. In addition to home oral hygiene, your family needs a great dentist in OKC. However, this can be a challenge. Every member in your family has unique oral health needs that change over the years. Finding a dentist who offers the services everyone needs at one location can be difficult. Your time is limited enough when raising a family. You do not have the time to run to different dental offices. Now, your entire family can benefit from one amazing dentist at Mitchell Smile Design.

Complete Dental Services
When raising your family, your dental care needs to be convenient. You need a dentist who offers preventive dentistry for even the youngest members in your family. However, you also need cosmetic and restorative dentistry for your older loved ones. At Mitchell Smile Design, Dr. Mitchell offers complete dentistry from one location.
In addition to general dentistry, he offers many areas of specialty, including orthodontics, periodontal therapy, and dental implants. He provides the exact services your family needs through all stages of life. He will always be there for your family, even in times of emergency with emergency dentistry services.
Comfortable Care
As a family dentist in OKC, Dr. Mitchell understands that everyone has different comfort levels and personal preferences—especially young children. Dr. Mitchell and his dedicated staff cater to individual comfort to ensure your family enjoys going to the dentist.
As a highly-qualified dentist, Dr. Mitchell also uses the best dental advancements to provide superior dental care. Your family will benefit from more comfortable and accurate treatments while enjoying many in-office amenities.
Benefit from One Dentist
By choosing one dentist for all your family's dental needs, you will save valuable time and money. Your entire family will have their dental needs met from one location. As a result, your loved ones will develop a trusted relationship with their dentist. Research shows that having one dentist over the years better encourages a lifelong commitment to dental health. You will set the right foundation for your family for a lifetime of healthy smiles while making your dental care more convenient.
Affordable Dentistry
When raising a family, you often have to budget your finances. You do not have the funds for expensive dental care. At Mitchell Smile Design, we do not want you to worry about the cost of dental care. We are in-network for Delta Dental Insurance. As a result, you will maximize your family's dental benefits to keep out-of-pocket costs to a minimum. To further help you pay for services, we make paying for oral care easy. We can even help you with third-party financing to ensure your family's dental needs are not put on hold due to cost.
Choose a Great Dentist Today
When it comes to your family's oral health, your family deserves to benefit from the best. With Mitchell Smile Design, we keep patients our top priority while ensuring all your dental needs are met from one location. Contact our office today to schedule your appointment.