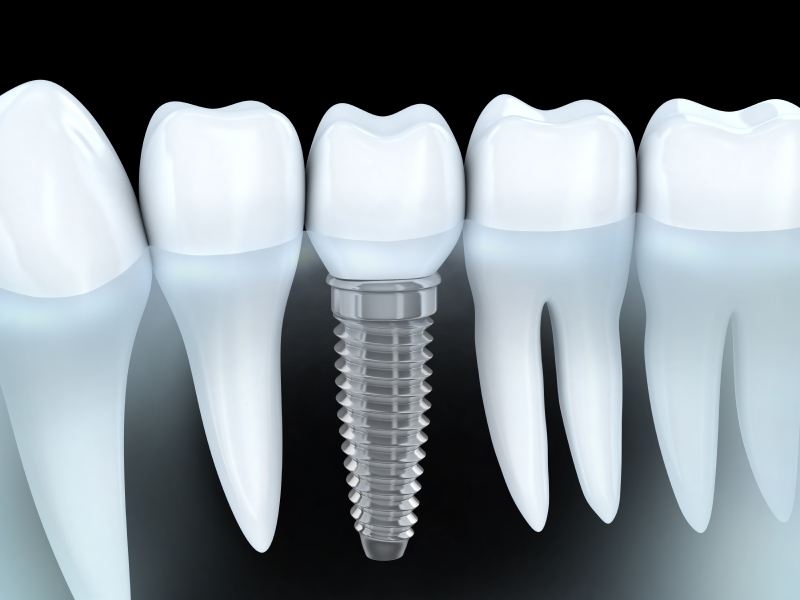 If you are living with tooth loss, you need an effective form of tooth replacement. Although you could choose a traditional option, like dentures or a dental bridge and crowns, they do not offer the same benefits as dental implants. Dental implants are the most preferred choice to replace lost teeth because they are predictable and last a lifetime. Not to mention, they provide many amazing benefits that are not possible with other tooth replacement options. As a dentist in OKC, Dr. Mitchell offers dental implants to enhance your quality of life and oral health.

Benefit from Dental Implants
Dental implants are the only option to replace missing teeth that replaces both the root and crown of the tooth. Using a surgical procedure, a biocompatible titanium post is strategically inserted into the jawbone. This replaces the root of the tooth while creating a secure bond as the jawbone will fuse to the post.
After the jawbone has healed, a titanium abutment is attached to the post using a minor surgery. This is needed to allow the gum tissue to heal while providing an anchor point for the dental restoration. The final phase of treatment involves attaching a custom-made dental crown to the abutment. Due to the materials and procedure used, dental implants offer a 95% success rate. In addition, they are the only tooth replacement solution to closely mimic the appearance and function of natural teeth.
Enhance Your Oral Health
By restoring your smile with dental implants in OKC, you will enhance your oral health. When a tooth is lost, the underlying bone is no longer stimulated. Over time, this causes bone density to decrease. As bone loss progresses, your remaining natural teeth will lack adequate support. This causes them to shift, increasing your risk for tooth decay and gum disease. Eventually, additional tooth loss will occur.
Dental implants are the only tooth replacement option to stop bone loss. The use of the titanium implant posts stimulates the jawbone, preserving bone density. This provides your remaining natural teeth with the support they need to stay firmly in place. In addition, this protects your facial structures from issues that occur with bone loss, such as sagging of the skin.
In addition to preserving your natural teeth and bone density, dental implants resolve many of the oral health issues that are often caused by other tooth replacement options. For example, when dentures are used, it can lead to gum irritation, which can cause sores and infection. You do not need to worry about this with dental implants. Although there is risk for infection, the risk if minimal if you properly care for the dental implants.
Make an Investment in Your Oral Health
Dental implants allow you to make a true investment in your oral health and quality of life. As a permanent solution to treat tooth loss, you will ensure your dental health while maintaining proper oral functions.
If you are ready to enhance your quality of life and oral health with dental implants, contact Mitchell Smile Design today to schedule your consultation.