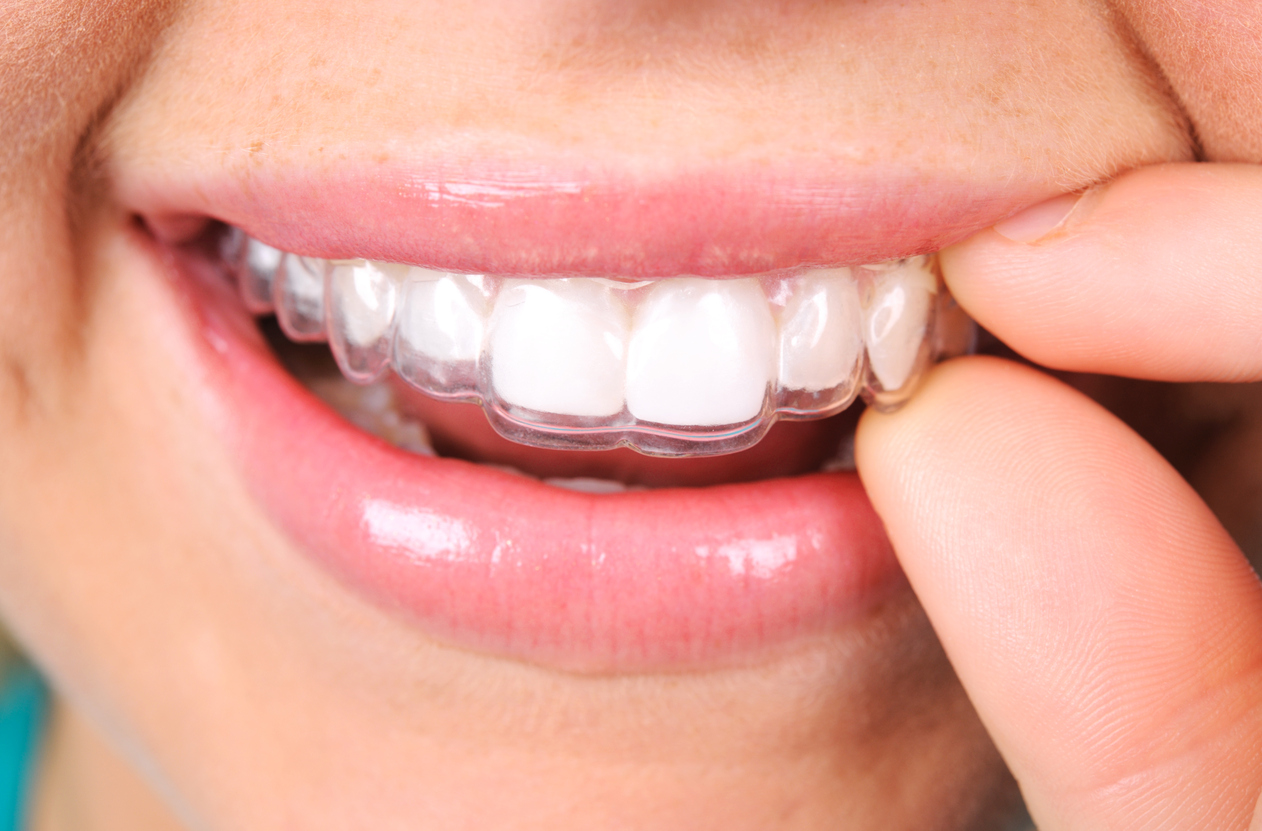 Has having a beautiful, straight smile been a dream of yours for a long time? Why haven't you pursued achieving it? Many patients have a tough time finding a dentist in OKC that can truly get them the results they want without a long, drawn out traditional orthodontic treatment. Luckily, Mitchell Smile Design has a straightening treatment that will change the way you feel about dental professionals and treatments in this area: Invisalign clear aligners!
The Revolutionary Orthodontic Treatment: Invisalign
Not only is Invisalign a revolutionary way to shift your teeth, but in its recent lifespan, this clear aligner system has touched at least 4 million patients. You can be confident that the way Invisalign uses a series of custom, removable aligners to gradually correct the alignment of your smile is going to truly be effective.
Invisalign can get you the smile you want up to 50% faster than a traditional orthodontic treatment!
Invisalign labs utilize SmartTrack material and SmartForce features to achieve 75% more predictable tooth movement.
You experience comfort and easy removal when needed.
That's right, you can remove your aligners to eat, drink, and clean your teeth.
Invisalign straightening technology was created to be effective for a variety of orthodontic issues (see below).
Invisalign for teens contain compliance indicators that fade from blue to clear to help them gauge wear time.
Benefits of Straightening Your Teeth
When you have crooked or misaligned teeth, you may be affecting your health unknowingly. Crooked teeth hide bacteria in hard-to-reach areas, weakening tooth enamel. Misaligned teeth may also be interfering with a healthy bite and TMJ functionality. You may not believe how many benefits come from straightening your teeth.
You'll have healthier gums without irregular spacing.
It will be easier to clean all the areas of your mouth thoroughly.
Straight teeth prevent abnormal tooth wear.
You will lessen your risk for dental emergencies.
Decrease your chances of experiencing headaches, mouth pain, and neck pain.
Straight teeth can improve your overall happiness.
A Question to Ask Yourself About Invisalign
This is probably the most important question you need to ask yourself before considering undergoing the Invisalign clear aligning treatment. What are you truly trying to fix about your smile? Invisalign may not be best for you for results that last. As long as your case isn't super severe, Invisalign can fix these smile imperfections:
Crowded teeth
Gapped teeth
Overbite
Underbite
Cross bite
Schedule a Consultation Today!
If you have been wanting to correct any of the issues listed above, Invisalign may be for you. The best way to determine which orthodontic treatment is best for you is to visit with Dr. Bradley Mitchell. This way, our expert dentist can evaluate your oral structures to see if Invisalign can truly benefit you. Contact us today to schedule your next appointment and discuss the possibility of getting the smile of your dreams!