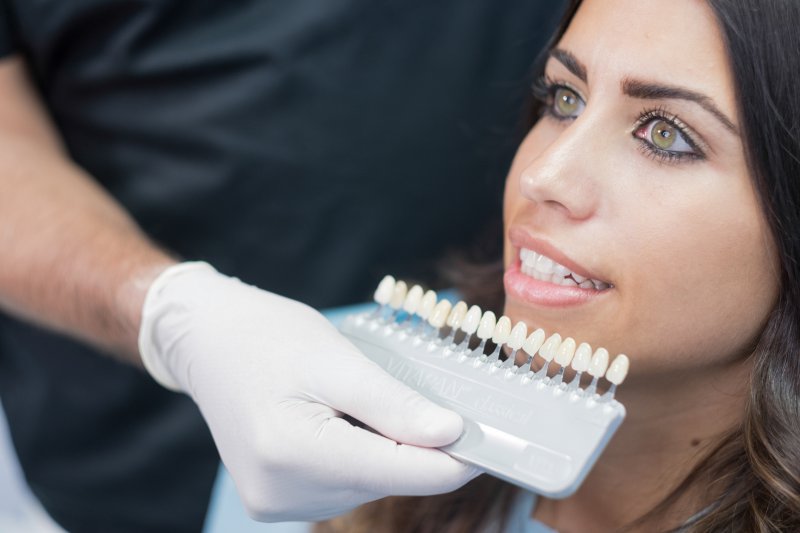 As your dental team, we provide services that can transform your smile and transform your life! Mitchell Smile Design realizes that there are challenges that our patients face every day and we have the ability to solve those problems. We can help you gain the confidence to smile again, have functional teeth, and above all—feel good about yourself inside and out! Are you facing difficulties of your own and need assistance improving your smile? Your OKC dentist, Dr. Bradley Mitchell, offers porcelain veneers to help you achieve the bright, straight teeth you've always wanted.
It's Possible: An Easy Smile Makeover with No Extensive Dental Work!
Did you know that those flaws in your smile can be easily masked? That's right: no adjusting, shifting, or extracting has to happen to achieve the smile of your dreams! The veneers that we offer at Mitchell Smile Design are created from high-quality dental materials that can be created to look like a naturally beautiful smile.
After examining your teeth, Dr. Mitchell will consider both the micro and macro aesthetics of your face. This means that he will study the relationship of each tooth to one another and also how your smile looks with your natural face structure overall. He does this to make sure your custom veneers match your face and jaw structure, creating the perfect smile that you've been dreaming of!
One of the best parts of getting porcelain veneers is that they are slightly translucent and faithfully mimic your natural tooth's color. Big bonus: they're stain-resistant! If you have any of these flaws or a combination of them, you should consider getting a smile makeover with our custom veneers:
Irreversible stains
Chipped teeth
Worn teeth
Crooked teeth
Misshapen teeth
Uneven spaces and gaps
Why Patients Love Porcelain Veneers
Yes, there are several types of cosmetic dentistry available to fix a flawed smile. But, what makes porcelain veneers more appealing compared to other cosmetic procedures?
Dental porcelain is strong and long-lasting.
They have a natural-looking surface that camouflages your dental work amongst natural teeth.
Less tooth enamel must be removed than with other cosmetic procedures.
Our dental porcelain is stain resistant.
Every veneer procedure is customized to each patient's needs.
The procedure is non-invasive and convenient.
Patients Appreciate a Low Maintenance, Gorgeous Smile
When it comes to maintaining your new smile, it doesn't take much more work than the maintenance of your natural teeth. Remember to:
Keep regular checkups and cleanings with Dr. Mitchell.
Brush your teeth twice a day and floss at least once a day.
Steer clear from hard objects and crunchy foods to avoid damaging your veneers.
Enjoy dark foods and drinks (wine, coffee, red pasta sauces, etc.) in moderation to avoid dulling your newly brightened smile.
It's Time to Get the Smile You've Been Longing For!
Are you ready to end your summer on the right note? A new smile could be just what you need to restore your confidence and help you love your smile again. Contact our office today to schedule a consultation with Dr. Mitchell and discuss your smile goals.