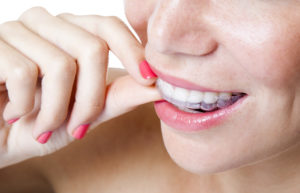 If you want straight teeth, you might feel a bit hesitant to talk to your dentist about your vision because it might take too long for an official orthodontic treatment—especially when you've heard of mail-order braces. Not only do they seem to be growing in popularity, you're almost sold on the idea because you won't have to visit a dental office like you may need to with a treatment like Invisalign.
As much as people don't necessarily enjoy visiting their local dentist, we're here to save you more time, money, and help you achieve the results you want. While these "convenient" mail order braces sound good, they're actually too good to be true! Here's why.
What are mail order braces?
There are a few different companies that offer a service to send aligners straight to a patient's door without them having to visit the dentist. It sounds easy because you just fill out a simple survey about the current state of your teeth and what your smile goals truly are.  Then, they will ship impression materials straight to you to have your treatment created from the comfort of your home. After your impressions are created, you will send them back to Smile Direct Club where a dentist will examine them. Your custom aligners will be designed and mailed to you every two weeks.
The promise of a straighter, better smile for as little as less than $100 (in some cases) sounds great right? Dr. Mitchell actually warns against them.
You Should Trust Your Dentist with Your Orthodontics Instead
Although your favorite blogger, vlogger, or social media personality may be promoting mail-order braces or other dental care products, you should always ask your dentist about anything you're planning to do differently with your mouth.
Your dentist doesn't particularly support mail order braces because as your dental team, we want you to experience effective, long-lasting results. As a trained professional, your dentist has dedicated years to the art of smile alignment, proportions, and oral health. Every service your dentist offers is personalized to each and every one's mouth, addressing your own dental issues—never generalizing them.
If you truly want a permanent solution to a gapped, crooked, or otherwise misaligned smile, visiting your dentist is the best way to receive a personalized treatment. You may be required to visit the dentist more often, but for good reason! Your dentist will double check on your orthodontic treatment, oral health, and have the opportunity to address any concerns as they come.
Feel free to ask your dentist about which orthodontic treatment may be right for you.
---
About Our Office
Here at Mitchell Smile Design, we're dedicated to providing excellent dental care for each of our patients. Despite your dental issue at hand, we always take a personalized approach to help you solve them. Meeting one on one with your dentist is the best way to begin and complete your treatment. Be sure to contact Dr. Mitchell today, to set up your consultation.