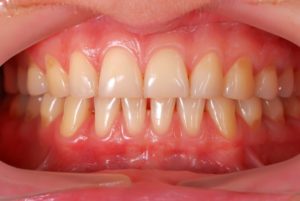 Bleeding and tender gums. Difficulty chewing and brushing. An increased risk of heart disease and stroke. These are all associated with gum disease, the number one cause of tooth loss in the United States. For years, dentists have been imploring patients to practice daily oral care to avoid the damaging (and often permanent effects) of gum disease.
Today, your dentist is discussing the difference between gingivitis and periodontitis, the causes, and how you can protect yourself in the future.
Gingivitis vs. Periodontitis
Gingivitis is a condition where dental plaque builds up on the gums, causing them to become inflamed. This makes them tender and bleed more easily, especially when brushing and flossing. The main difference between gingivitis and periodontitis is gingivitis doesn't cause irreversible damage. The teeth are still firmly implanted in their sockets when gingivitis is present. No bone or tissue has been permanently affected, meaning brushing twice a day with a fluoridated toothpaste, flossing daily, and visiting your dentist can make them healthy again.
Periodontitis, also referred to as gum or periodontal disease, is often the next stage of gingivitis. Here, the inner layer of the gum and bone recede from the teeth and form pockets. As these pockets between teeth grow, food debris and bacteria collect more easily. Eventually, an infection forms below the gum line and the body's immune system kicks in.
As the body fights back, the bone and connective tissue holding teeth in place break down. Over time, the pockets deepen, bone and gum tissue is destroyed, and teeth lose their stability. In this stage, the teeth begin to loosen and eventually fall out.
What Causes Gum Disease?
One of the most common causes of gum disease is poor oral care habits. By practicing daily oral care, most cases of gingivitis and periodontitis can be avoided. However, your chances of developing gum disease go up if:
You have a chronic immune disease (i.e. cancer, HIV, diabetes)
You smoke or use tobacco products
You're experiencing hormonal changes (i.e. pregnancy, menopause, puberty, menstruation)
You take medications that reduce saliva production
You are genetically predisposed to gum disease
Depending on your condition, you may need to visit the dentist and/or brush and floss more often than the average patient.
How Do I Prevent/Treat Gum Disease?
If you only experience small amounts of bleeding while flossing, there's a good chance you only have gingivitis and can reverse the effects by improving your oral care routine. However, you'll need to visit your dentist for periodontal therapy if you experience:
Gum bleeding, swelling, and a deep gum pocket depth
Red or tender gums
Loose or shifting teeth
Receding gums
Persistent bad breath
A change in the way dentures fit
Looseness while biting down
Your dentist can perform scaling, root planing, and periodontal maintenance to keep bacterial infections at bay. If you feel you may have periodontitis, schedule an appointment with your dentist today!
About the Author
Dr. Bradley Mitchell earned his dental degree from the University of Oklahoma. He helps patients improve their oral care routines every day and helps those afflicted with gum disease manage it with effective periodontal treatments. To learn more about his practice, contact him through his website.