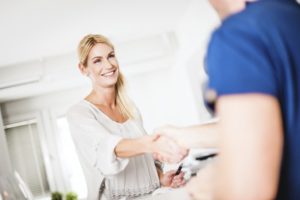 When was the last time you or a family member on your insurance plan visited the dentist? Was it three months ago? Six months ago? What did you get done at this treatment? Was it a routine cleaning or something more extensive that you knew was going to require follow-up appointments? These are all important questions to ask yourself as the end of the year inches closer.
If you have unused dental insurance benefits, they could go to waste if you don't schedule your next appointment today!
Why Dental Insurance is "Use It or Lose It"
When it comes to insurance plans, any benefits you paid into at the beginning of the year will reset on January 1st. According to the American Dental Association, this is a very common issue. Based on their reports, the average individual with dental insurance only uses $323 worth of insurance in a given year, despite having an annual maximum of about $1,250. That's over $900 worth of benefits going out the window.
Unfortunately, this is a very common problem across the country. According to the National Association of Dental Plans, only 2.8 percent of PPO plan participants met or exceeded their annual maximum. This is often because they didn't know they had dental benefits to use or because they don't understand their insurance well enough to do so.
Thankfully, there are ways to maximize your benefits before it's too late.
The Best Ways to Maximize Insurance
Start by contacting either your insurance company's customer service representative or your HR manager, depending on where you get your insurance. Both individuals are experts when it comes to the nuances of your plan. They'll explain key points you'll need to know when you visit a dentist. These include your remaining benefits, your current annual maximum and the amount of coverage you can expect for certain services.
Once you know what treatments you need, you can schedule a dental appointment and build a treatment plan with the dentist.
Treatments to Prioritize When Maximizing Benefits
Preventive treatments are always the first type of treatment you should consider as these are typically the cheapest and most helpful. If you already have healthy teeth, then a preventive exam and routine cleaning is a great way to confirm no dental disease is present and get professionally-cleaned teeth.
Alternatively, those with extensive and incomplete treatments like dental crowns or fillings, should try to stagger them throughout the current and following year. Dental practices are known for building treatment plans in this way. By doing this, you can use your remaining benefits now and then complete treatment once your benefits reset next year. It's why so many dentists implore their patients to see them if they have dental insurance and the year is almost over.
Don't let dental benefits go to waste, schedule an appointment today to get started!
About the Author
Dr. Bradley Mitchell is in-network with Delta Dental, but he's more than happy to file claims with your provider for you as well. If you have any questions regarding accepted plans or insurance in general, don't hesitate to contact him through his website.