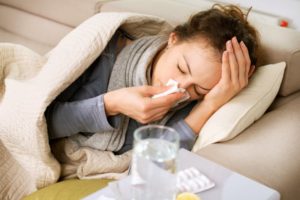 With winter officially here, have you gotten sick yet? Runny noses and sore throats can be a real annoyance, but it's important that you don't forget to take care of your oral health, even if your overall health is under attack. Keep reading to learn some easy cold and flu season tips to keep your teeth and gums healthy, while combatting sickness at the same time.
Tip #1: Brush Your Teeth Well
It's easy to skip your brushing and flossing routine when you're sick, but it's important to keep your teeth clean even when you're down for the count. Be sure to brush twice a day and floss once a day to remove plaque and food debris that collects in the mouth.
Tip #2: Stay Hydrated
When you're sick, it's vital to your body to stay hydrated to help fight off infection. When it comes to your oral health, dry mouth can be a real problem, which is another reason to stay hydrated. Saliva is key in washing away bacteria that causes cavities and gum disease. If your mouth is dry, it promotes the growth of harmful bacteria. So, drink water frequently, and you can even reach for the classic bowl of soup to intake more liquids.
Tip #3: Saltwater Can Help
Take a tablespoon of saltwater and dissolve it into a glass of warm water. After, gargle and spit until you've finished your cup. Surprisingly, this cuts down on harmful bacteria in your mouth and throat that can collect, especially when sick. It will also reduce some of the effects of bad breath and cavity-causing plaque.
Tip #4: Pick Sugar-Free Medication
Popular medications like cough drops and cough syrup provide you relief when sick, but many of these products are full of sugar for the taste. This sugar coats your teeth when using cough syrup, and it gets in your saliva when sucking on cough drops. Both of these medications can increase your risk of cavities and gum disease.
Your best bet is to try to pick products that are sugar-free. You can look for items containing xylitol or sucralose, which are popular sugar substitutes that still taste good.
Tip #5: Toss Your Toothbrush
Once you've beaten your sickness, the only thing left to do is to toss your toothbrush. Your old brush can be home to bacteria that will reinfect you if you decide to use it again. That's why it's important to throw it away as soon as you start to feel better.
Use these easy tips from your dentist to stay on top of your oral health while battling annoying cold and flu symptoms during this season of sickness.
Meet the Dentist
Dr. Bradley Mitchell takes pride in developing lasting relationships with his patients in Oklahoma City to deliver them quality dentistry. He believes in patient education, which is why he likes giving tips on how to stay healthy during the cold and flu season. He is the owner and chief dentist at Mitchell Smile Design, and he can be contacted through his website or by phone at (405) 755-2670 for any questions.