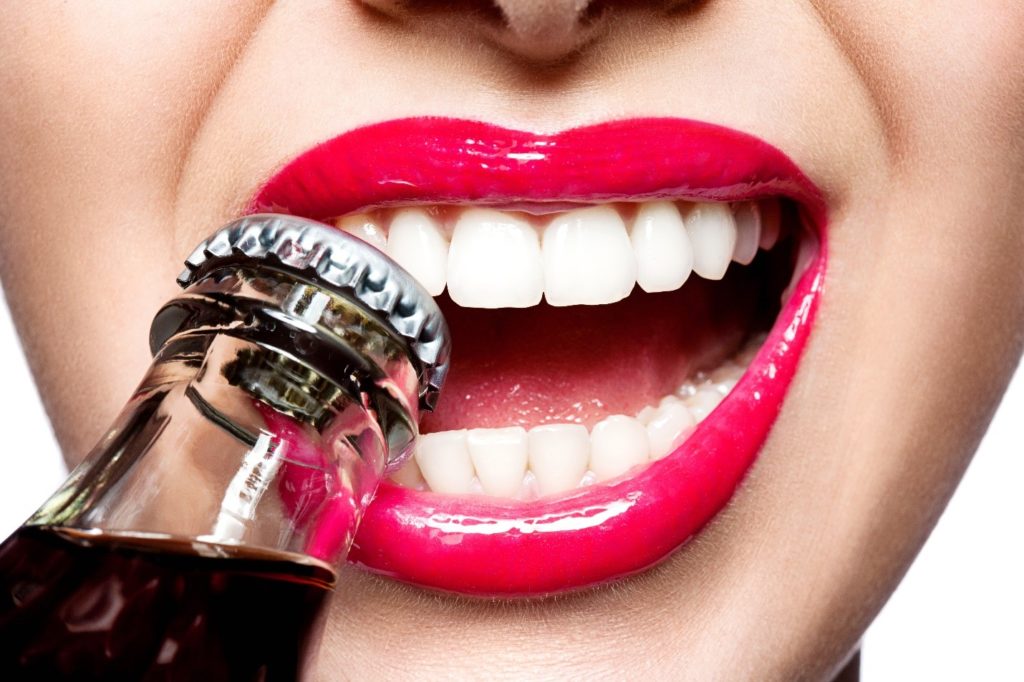 Each year, roughly 500,000 patients choose to address tooth loss head-on with dental implants. Since this state-of-the-art service provides results that are both flawless and functional, it's not hard to see why. Plus, they can last for 30+ years with proper care! To prevent short and long-term implant failure, make sure to avoid these four bad dental habits.
Bad Habit #1: Using Your Teeth as Tools
Have you ever used your teeth to open a package, a bag of chips, or a bottle cap? While it may seem convenient at the time, the excessive pressure can cause your dental implant to chip, crack, or break altogether. Plus, the bacteria that is introduced to your mouth in the process can result in an infection, increasing your chances of dental implant failure. In short, it's worth taking a few extra minutes to locate the scissors or bottle cap opener.
Bad Habit #2: Not Flossing Consistently
Unfortunately, flossing has become an oral hygiene habit that many patients have come to view as optional. In reality, it's an essential part of keeping your dental implants (and your teeth) free of plaque, food particles, and other debris. So, make sure to floss at least once a day. If you find that using traditional floss is tedious, ask your dentist if you can use a water flosser!
Bad Habit #3. Smoking
Smoking and dental implants don't mix for several reasons. To start, it increases your risk of gum disease, which can compromise the structure of your dental implant. Furthermore, it interferes with the regrowth of the bone, boosting your chances of dental implant failure by 2-3x. That's why patients considering dental implants are encouraged to quit smoking well beforehand.
Bad Habit #4: Skipping Your Biannual Dental Checkups
Even with dental implants, biannual dental checkups are crucial. Not only do these visits allow your dentist to examine the condition of your dental implant, but they involve regular screenings for oral cancer, cavities, gum disease, and the like. Furthermore, the cleaning portion of these appointments helps prevent serious oral health concerns in the future by removing plaque and cleaning the hard-to-reach areas of your mouth!
Dental implants are incredibly durable, but you still need to avoid the above dental habits to help keep them in pristine condition. Doing so will help your new and improved smile last for decades to come!
About the Practice
With Dr. Bradley Mitchell leading our team at Mitchell Smile Design, our patients can have peace of mind knowing their smiles are in the best of hands. He completed his studies at the Oklahoma State University in Stillwater and has since maintained active memberships with notable organizations, like the Oklahoma Dental Association. As a result, he can help patients with a wide range of dental needs, including dental implants. If you want to learn more about life with dental implants or you'd like to schedule an appointment, don't hesitate to visit our website or call (405) 755-2670.