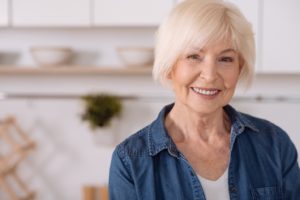 Traditional dentures are certainly useful, but they are not without their downsides. For example, because they are secured in the mouth via natural suction or an adhesive, they are prone to slip out of place. Is there a way to keep your dentures where they belong? Yes. Let's talk about some reasons why you should consider swapping out your old prosthetic for stable and reliable implant dentures.
Dental Implants Act Like Tooth Roots
Dental implants are small, screw-like devices made out of a titanium alloy. When inserted into the jawbone, they bond with the surrounding tissue and can provide an incredibly strong base of support for prosthetic teeth. When dentures are attached to them, the teeth tend to stay in place, without the need for adhesive.
Enjoy a Reliable Fit
When you first got your traditional dentures, they might have fit quite well. However, as time went on, you may have begun to notice that your prosthetic felt looser and looser, leading you to use more and more adhesive. Implant dentures do not have this problem. The implants prevent the jawbone from changing shape, which means that your prosthetic teeth will retain their fit for as long as possible.
Eat a Wider Variety of Foods
While traditional dentures can enable you to eat many delicious foods, they are not able to easily handle certain things, such as corn on the cob, tough meats, and other chewy or hard foods. When you do consume such items, you may have to take precautions to ensure that your teeth do not become destabilized.
Implant dentures are different. Because they are anchored in the jawbone, they provide a strong and stable bite force that can handle virtually any food without the need for careful eating techniques.
Experience Enhanced Longevity for Your Prosthetic
Traditional dentures typically last for 5 – 8 years before they need to be replaced. This is not because they wear out. Rather, it is because they reach the point where they can no longer be adjusted to accommodate a patient's changing jaw shape.
Since dental implants help to preserve the jawbone, implant dentures can last quite a bit longer than their traditional counterparts. This makes them a cost-effective way to replace missing teeth.
Smile with Confidence
Implant dentures tend to look and feel as natural as possible — more so than traditional prosthetics. You can expect to be able to show off a confident smile whether you are going on dates, attending family events, or making a powerful impression in the workplace.
Traditional dentures are wonderful — but they do not measure up to the many benefits of implant dentures. Why not talk to your dentist about upgrading your teeth?
Meet the Practice
Dr. Bradley Mitchell is an experienced general dentist in Oklahoma City. He is proud to offer dental implant procedures to help patients experience the many benefits of steady, long-lasting tooth replacement. To learn how he may be able to help you enjoy a strong and complete smile, contact our office at 405-755-2670.