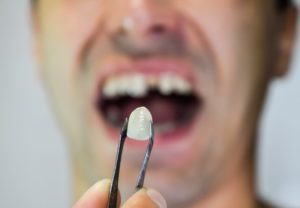 Dental emergencies can happen at any moment, and without a plan in place to address the situation, it could lead to additional damage, discomfort, or stress. Whether a stray basketball hit you in the mouth and caused your dental crown to pop off of your tooth, or the adhesive weakened over the years, allowing the restoration to detach, it's important to seek help as soon as possible. Read on to learn four important steps to take to prevent additional harm from coming to your smile.
Step 1: Call Your Emergency Dentist
The first step you should always take if a dental crown falls off of a tooth is to call your emergency dentist. They'll provide you with over-the-phone guidance, including whether or not you should try to reattach the crown to your tooth, and schedule an appointment for as soon as possible so you can have your restoration repaired or replaced.
If you're experiencing pain or other symptoms in addition to a detached crown, they can also let you know the severity of the issue and whether or not you require same-day care.
Step 2: Find & Clean Your Dental Crown
In many cases, if a crown comes off of a tooth, you'll likely feel it in your mouth. However, if the crown became detached due to impact or oral trauma, it may fall out of your mouth. In these cases, try to locate your restoration. Once you do, rinse it off under a cool stream of water and bring it to your dental appointment. If the crown is repairable, they may be able to help you avoid needing a new one.
Step 3: Reinsert the Crown onto Your Tooth
In your initial phone call to your dentist, they may tell you whether it's okay to reattach your crown onto your tooth. This isn't a great solution in every situation, so it's a good idea to ask them before doing it.
If they advise you to, they'll likely have you rinse your mouth with warm salt water to clear away any debris and place a small dab of toothpaste on the inside of your cleaned crown. This will act as an adhesive to hold it in place over your tooth until you can reach your emergency dental office.
Step 4: Get Your Crown Repaired or Replaced
When you arrive at your dentist's office, they'll examine your restoration and your tooth and let you know whether your crown needs to be repaired or replaced. In some cases, if the crown has been detached for long enough for bacteria to infect the tooth, you may require root canal therapy before the restoration can be replaced.
About the Author
Dr. Bradley Mitchell is passionate about helping his patients get out of pain fast, especially during a stressful emergency dental situation. That's why he blocks time in his schedule to offer same-day appointments for emergency patients. He also uses high-quality and durable dental materials, like porcelain and ceramic, to craft customized, natural-looking dental crowns that stand the test of time. To schedule an emergency appointment, visit Mitchell Smile Design's website or call 405-755-2670.