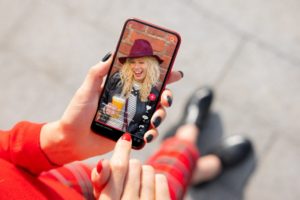 Do you sometimes wonder how the gleaming smiles of your favorite social media stars got to be so stellar? There's a good chance they have veneers. Many online influencers get veneers to correct minor imperfections to give them that camera-ready look. Keep reading to learn from your dentist in Oklahoma City about social media influencers with veneers and how these cosmetic additions can help you build your online following.
Who Are Some Examples of Influencers with Veneers?
Once a person's career begins to gain traction due to social media, they often decide to upgrade their smile. Veneers offer a permanent improvement and make a grin more uniform, as well as whiter and brighter. Here are some prominent influencers who have talked publicly about getting veneers:
Gabi DeMartino
Gigi Gorgeous
Jeffree Star
Tana Mongeau
Huda Kattan
Veneers Can Boost Your Ability to Build a Social Media Following
As you might expect, appearance matters on social media:
Beauty in General – Veneers and other forms of cosmetic dentistry can improve more than just your smile; they can make your entire face seem more balanced, bright, and youthful. They can also help balance out other treatments like lip fillers.
Durability – The life of an influencer is a busy one. Luckily, veneers won't get in the way of that. They can last over 15 years with proper care, so you won't have to regularly make time in your hectic schedule to have them repaired.
Natural Yet Luxurious – Beautiful smiles are often associated with celebrities, so veneers can make you look like an A-lister. They also blend seamlessly with the rest of your grin, which makes your pearly whites look luxurious yet natural.
Photogenic – Since your smile is a critical part of taking the perfect selfie, veneers can drive home the fact you are living life to the fullest. A happy, glowing grin will make your followers want to keep coming back for more.
If you aspire to build a following like your favorite social media influencers with veneers, you may want to schedule a consultation with your dentist to find out if this treatment is right for you. Soon, you'll be on your way to a gleaming, uniform smile you're sure to love!
About the Author
Dr. Bradley Mitchell earned his dental doctorate from the University of Oklahoma. He is a member of the American Dental Association and the American Academy of Cosmetic Dentistry. Dr. Mitchell loves being a dentist because of the friendships he's made and the opportunity to ensure his patients are healthy and confident. If you are interested in veneers, he utilizes comfortable, mess-free digital impression technology and is partnered with premier dental labs in Florida and California. To get started, you can schedule a free cosmetic consultation on his website or call (405) 755-2670.