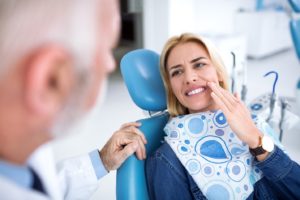 If you've recently been informed that you're going to need a root canal, you might feel a little bit of doubt at the back of your mind. But this procedure is absolutely nothing you need to worry about and is realistically one of your best options! Keep reading to learn a little more from your dentist about root canal therapy and three reasons why you won't regret going through with it.
Reason #1. Your Tooth Is Given a Second Chance
A root canal is designed to give your tooth another chance to remain inside your mouth. When the soft pulp inside of your compromised tooth becomes infected, inflamed, or diseased, the resulting cavity that forms can expand into the nerves of the tooth—and cause you a ton of pain! But root canal therapy allows your dentist to clear the infected pulp from inside the tooth and seal it back up with a restoration like a dental crown to prevent future problems.
Reason #2. The Procedure Isn't Very Painful
Root canals have an unfair reputation, and despite what you've maybe heard through the grapevine or seen on television, the procedure isn't very painful at all! In fact, most patients compare them to receiving a filling. Your comfort is your dentist's top priority, and your mouth will be numbed with local numbing agents or sometimes general anesthesia. That said, you may experience some mild discomfort after the numbness wears off, but this usually only lasts for a couple of days. If you experience complications, don't hesitate to contact your dentist!
Reason #3. The Alternative Is Much Worse
Simply put, losing a tooth is never something that you should want to happen, and in some cases, a tooth that isn't able to receive root canal treatment is in danger of being lost forever! If the infection has led to something severe like an abscessed tooth, an extraction might be necessary to stave off potential oral health issues. Your natural teeth are the best available tools at your disposal for biting, chewing, talking, and so on, meaning that you should want them to remain healthy and inside your mouth throughout your whole life.
About the Practice
The team at Mitchell Smile Design is thrilled to serve the dental needs of patients and families in Oklahoma City and the surrounding area. The practice is led by Dr. Bradley Mitchell, who received his dental doctorate from the University of Oklahoma College of Dentistry and is a member of several notable dental organizations, including the Academy of General Dentistry and the American Dental Association. If you or a loved one is suffering from unrelenting tooth pain, don't hesitate to contact the practice for assistance. Telephone: (405) 755-2670.