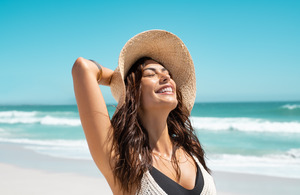 There are plenty of reasons for adults and children alike to look forward to summer – but if you're unsatisfied with the way your smile looks, you may be somewhat nervous about it as well. After all, summer often means having your picture taken or going to places filled with people who might see your less-than-dazzling teeth. Luckily, your dentist can help you get your grin ready for your upcoming vacation with a smile makeover! Here's how the process works and how it can enhance your appearance.
What is a Smile Makeover?
A smile makeover is actually a combination of several cosmetic dental services that have been carefully chosen to correct specific flaws. Your dentist can put together a treatment plan once you give them a detailed explanation of what your smile goals look like.
Your own smile makeover could include any of the following services:
Teeth Whitening: Even a healthy tooth might end up looking less than its best thanks to stains left by coffee and other darkly pigmented beverages. You can often improve the shade of your smile with the help of a teeth whitening treatment.
Veneers: Some small chips and cracks don't necessarily call for a crown, but they can still affect the way your smile looks. You can hide minor dental damage (and various other kinds of imperfections) with veneers.
Invisalign: This treatment typically takes significantly longer than teeth whitening and veneers, but it's often the ideal choice for straightening poorly aligned teeth. Compared to traditional braces, Invisalign can be a particularly good fit for the summer since the clear aligners are less likely to draw the wrong kind of attention.
Why Should You Get a Smile Makeover for the Summer?
There's never a wrong time to pursue a more aesthetically pleasing grin. At the same time, though, there are a number of advantages to having a smile makeover done for the summer:
Chances are that your schedule is more flexible during the summer, allowing you to find the time you need to set up the necessary appointments with your dentist.
An improved smile can help you feel more confident about showing off your teeth for the camera.
If you're planning on attending a wedding or any other events this summer where you might meet people for the first time, a smile makeover can go a long way toward helping you make the kind of first impression you want.
Beautiful teeth can make a bigger difference than you might think. Why not give your dentist a call to see if a smile makeover could help you start your summer off on the right foot?
About the Author
Dr. Bradley Mitchell has completed many hours of training with notable names in the dental field, including Dr. Frank Spear, Dr. John Kois, and Dr. Gordon Christensen. He belongs to various professional organizations, including the American Academy of Cosmetic Dentistry. At Mitchell Smile Design, he can help patients transform their grins with personalized smile makeovers. To schedule a consultation with Dr. Mitchell at his Oklahoma City practice, visit his website or call (405) 755-2670.