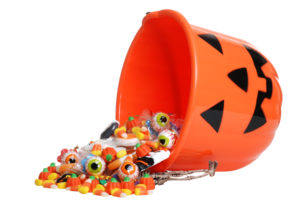 It's October, and along with an increase in pumpkin spice everything, your dentist also knows more candy is consumed this month than any other. Even if it's been decades since you last trick-or-treated, you probably won't be safe from the onslaught of sweet and sticky candies and treats that seem to appear from nowhere this time of year. But, with just a little effort on your end, you can make sure that you are snacking wisely to protect that beautiful smile of yours. Keep reading for 5 tips for smart candy consumption in October!
#1: Plan Your Snacks
Your mouth generates more saliva during mealtimes to help you chew and swallow your food. And guess what? Saliva also works as a natural cleanser to wash away bacteria and food particles. That means limiting your candy consumption to right after a meal can help to limit the amount of sugar that sticks around after you've swallowed the last bite.
#2: Skip Sticky Sweets
It's always important to choose your indulgences wisely — and this month, that means trying to stay away from extremely sticky sweets, like taffy or caramel apples. These treats can damage existing dental work as well as your healthy tooth enamel. Plus, those sugary bits are also likely to get stuck in your teeth and accelerate the rate of tooth decay.
#3: Set Limits
You can avoid mindless snacking by keeping the candy away from where you are likely to lose track of how much you have consumed. That means not eating while you work at your laptop or when you watch TV in the evening. Instead, try keeping the candy in the kitchen and limit yourself to one to two pieces after your meal (in accordance with tip #1).
#4: Avoid Other Sweet Treats
If like most people, you are increasing your candy consumption during October, you may want to consider cutting back the sweet treats somewhere else. Cutting back on the sugar you add to your coffee or the morning muffin you occasionally eat, for example, can help to even out the amount of sugar you are getting throughout the rest of the day.
#5: Visit Your Dentist
Remember that patients of ALL ages should visit the dentist at least twice per year. And there is never a better time to go than right after Halloween season! Take some time to schedule a checkup and cleaning at the beginning of November to get those teeth cleaned up and feel great knowing you're heading into the winter season with a healthy and beautiful smile. If you have dental insurance, this visit should be fully covered!
To conclude, Halloween can be a scary time for smiles — but it doesn't have to be! Follow these tips and you'll be protecting your oral health throughout October.
Meet the Dentist
Dr. Bradley Mitchell is a general dentist who is committed to the prevention of cavities, gum disease, and other oral health hazards. A member of the American Dental Association, the Oklahoma Dental Association, and the Academy of General Dentistry, Dr. Mitchell offers comprehensive services for patients of all ages. To schedule an appointment this fall, you are invited to contact Mitchell Smile Design by phone at (405) 755-2670.